International conference New Drugs 2014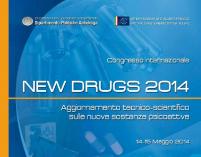 28-04-2014
In recent years we have witnessed a new phenomenon that has revolutionized youth trends, and not just with respect to the use of drugs. To traditional substances(cannabis, cocaine, heroin, etc.) New Psychoactive Substances of synthetic origin have been added, that are still little known with regard to their characteristics and to the risks that they pose to human health.
In addition to this, even the analytical methods needed to recognize them in laboratory and to prevent and combat trafficking and smuggling are unknown both on the Italian territory, but also at the European and international level.
The National Early Warning System, established in 2009 at the Department of Antidrug Policies of the Presidency of the Council of Ministers, in accordance with European regulations on the subject, monitors the occurrence of these substances on the Italian territory with the aim to early detect potentially dangerous phenomena for public health related to the appearance of new substances and new methods of consumption, and to enable early warnings that involve the departments responsible for the protection of health and responsible for the eventual implementation of measures in response to emergencies.
In view of the increasingly frequent reports of New Psychoactive Substances that reach the European and Italian Early Warning System, the Department of Antidrug Policies has also developed a new National Action Plan for the prevention, early detection and contrast of New Psychoactive Substances. This international conference, organized for the first time in Italy, is designed to present and disseminate available information on the phenomenon of New Psychoactive Substances taking into account all the different aspects that characterize it at national and international level. The event aims to provide evidence of high scientific and technical level necessary to deal with the phenomenon at all levels and to expand the knowledge of those who daily have to deal with this issue.
For this reason, at the conference are invited to participate professionals working in the following fields: analytical, clinical, pharmacological, Law Enforcement and Judiciary. The aim is to build an integrated and coordinated action across all administrations and organizations involved, and therefore to be able to deal with this emerging public health challenge.